Get involved
Getting involved can take many forms, all the way from internships to correspondents. We'll advertise any staff vacancies we have on this page too, including remunerated "year in industry" placement opportunities.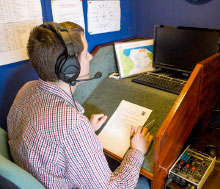 Our "year in industry" placements are generally awarded to UEA students. Emma Sharples (now a forecaster at the UK Met Office) and Sophie Cowie (PhD student at the University of Leeds) undertook placements with Weatherquest while studying at UEA where we are based. Dan Holley is with us now (doing live BBC Radio forecasts as well as many other tasks) and returns to his studies to complete his degree in the autumn. The UEA is a vibrant place to work with many facilities, including the state-of-the-art Sportspark with a 50m swimming pool and a popular concert venue.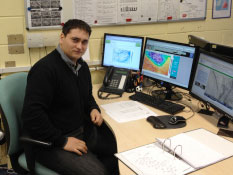 Weather is international in scope and we welcome internship applications from European students who can be funded through the ERASMUS programme or from graduates seeking funding through the LEONARDO programme. Theo Gkousarov spent his ERASMUS placement with us at Weatherquest and impressed us so much we hired him on completing his Environmental Engineering degree in Crete.
To forecast the weather successfully requires strong awareness of current and recent weather conditions. We welcome receipt of your own carefully collected weather data and are always interested to receive photographs of interesting weather conditions - become a Weatherquest weather correspondent! If you agree, we'll showcase the best pictures here on the Weatherquest website.
You are obviously interested in weather since you are reading this page - why not join us for one of the upcoming Royal Meteorological Society talks hosted by their East Anglian Centre at UEA - here's the programme, the talks are open to all. Hope to meet you soon...
STAFF PROFILES

Steve Dorling
POSTCODE FORECAST