Storm Angus and his friend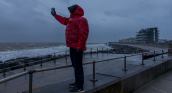 The first named storm of the season brought a period of strong winds and heavy rain to southern parts of Britain. Some of the worst affected areas included the southwest where Exeter picked up 60mm of rain on Saturday (the average rainfall is 83mm for the month). This rainfall triggered eight flood warnings and 49 flood alerts by Sunday across England and Wales. A wind gust of 84mph was recorded at Guernsey on Saturday night and 81mph at Langdon Bay in east Kent. Strong winds caused power outages in Devon in particular.

Following a brief spell of quieter weather on Sunday another area of low pressure approached southwestern Britain later in the day bringing further strong winds and heavy rain to southern counties of England. This system initially concentrated rainfall in southwestern Britain with pulses of heavy rain then spreading northwards into Wales, the west Midlands and northern England. Exeter picked up an additional 45mm of rain on Monday. By the end of Monday the Environment agency had issued 126 flood alerts and 40 warnings in England and Wales. Areas particularly affected were Stalybridge, Tameside where numerous homes have been flooded. Some 16,000 people losing power to their home. Other areas affected include Rotherham and parts of Greater Manchester. In Devon, the train line between Tiverton and Exeter St David's has been severely damaged by floodwater. Wind gusts with this second area of low pressure were not as strong as those associated with Angus with 70 mph recorded at Needles on the south coast and 58mph at Langdon Bay overnight.


Radar animation loop

Wet and windy weather isn't uncommon at this time of year. Deep areas of low pressure frequent northwestern parts of Britain. Occasionally, Atlantic lows are steered a little further south where the impacts can be more keenly felt. Conditions have been made worse by the quantity of leaf fall in recent days with blocked drains exacerbated the problems. Low pressure systems are particularly deep at this time of year due to the large temperature contrast across the northern hemisphere. The cold Arctic air meeting tropical warmth and moisture surging northwards helping to create and sustain these deep lows.

A quieter spell of weather is expected for the next week or so as high pressure becomes broadly in control of the weather across the British Isles.
James Wilby  22nd November 2016