Where is Gonzalo going next?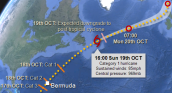 Hurricane Gonzalo made landfall over Bermuda on Friday evening, as a category 2 storm with sustained wind speeds of at least 105mph. Currently the storm remains a category 1 hurricane, but is forecast be downgraded to an extra-tropical cyclone within the next 12 hours, with the remains of the storm expected to reach the British Isles on Monday night.

Being a warm core system, as Gonzalo moves over the cooler waters of the Atlantic it will interact with both a strong jet stream aloft, and some much colder air from Iceland and Greenland, causing it to gradually weaken and begin its transition into an Atlantic frontal system instead. The remnants of Gonzalo will eventually merge with an area of low pressure already situated near Iceland during Tuesday daytime, losing its identity and closed circulation.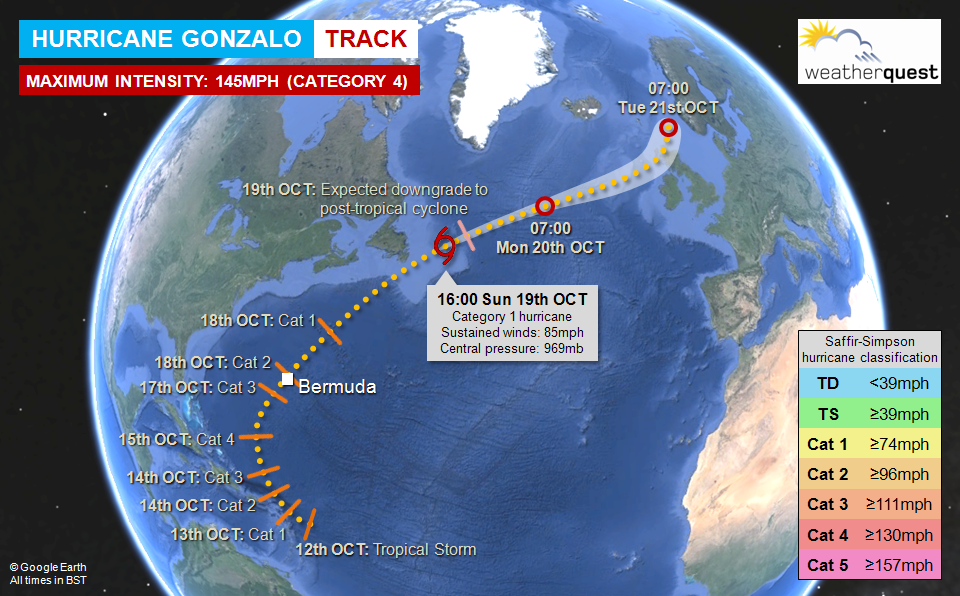 Observed and forecast track of Hurricane Gonzalo - click to enlarge

The resultant area of low pressure is expected to bring heavy rain to northwestern parts of Britain, with wind gusts of up to 60-70mph in northwestern Scotland. Strong winds will increase the rate of leaf fall, and given the fact that many trees are still in full leaf this may lead to some blocked drains and subsequently some surface water flooding may occur in places. As bands of rain drift south and eastwards across the British Isles overnight and into Tuesday, the rain will become more fragmented and less intense, clearing during the first part of Tuesday morning.

However, strong northwesterly winds will remain a key feature of the weather during Tuesday daytime, still with gusts of 50-60mph in exposure, accompanied by blustery showers also. Some disruption is possible in places to both power and transport, for example. Furthermore, such strong northwesterly winds combined with high astronomical tides may lead to some coastal flooding in parts of East Anglia in particular.

Despite the risks and warnings, this sort of weather is fairly typical during autumn, and it is not overly unusual for deep low pressure systems to track near or over the British Isles at this time of year.
Chloe Moore  19th October 2014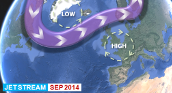 Driest September since records began
Just two weeks into September, rainfall totals were significantly less compared to average figures, prompting a press-release titled "the driest start to September in over 50 years". The second half of the month remained largely dry, resulting in September 2014 being the driest September since records began in 1910, with 22.1mm as the UK average for rainfall, accounting to just 23% of the monthly average.

Despite being the driest September nationally in over one hundred years, the wettest region (relative to each region's norm) was actually East Anglia, which received 35% of its average rainfall, equating to 18.7mm of rain. Northern Scotland was joint wettest, also receiving 35% of their average monthly rainfall. However, there were only four days in September when East Anglia received rainfall totals exceeding 1mm, compared to eight days as is more typical in an average September.

Cavendish in Suffolk was the wettest place in East Anglia, receiving 45.4mm; however, in contrast, Holbeach, next to The Wash, received just 7.5mm. The scattered and thundery nature of the showers at times led to large accumulations in places, as well as localised variations. Brooms Barn (near Bury St Edmunds) in Suffolk recorded 11.2mm of rain in September, whereas Santon Downham, less than 20 miles north of Brooms Barn, received more than double that at 25.4mm.

The heavy, thundery showers on the 19th and 20th September made a significant contribution to the monthly totals recorded at stations across East Anglia, with flooding even reported in parts of Essex. At Cavendish, 17.4mm of rainfall was recorded on the 19th September. Following this, 15.0mm was reported on the 20th September, with these two downpours contributing three-quarters of the total monthly rainfall at Cavendish. Andrewsfield in Essex was another location that received a significant amount of their total rainfall from the thundery showers on the 19th and 20th, with 11.6mm of rain falling on the morning of the 19th between 4am-8am, accounting for 60% of the recorded rainfall during the month.

It was also warmer than normal with a mean daytime temperature of 20.1&degC in East Anglia, some 1.2&degC greater than the 1981-2010 average. The warmest temperature recorded was 26.2&degC at Cavendish on the 18th, with the lowest temperature of 2.0&degC observed at Santon Downham on the 8th. Sunshine hours were not drastically different to average figures, with 133.3 hours of sunshine over East Anglia, which translates to 93% of the monthly average.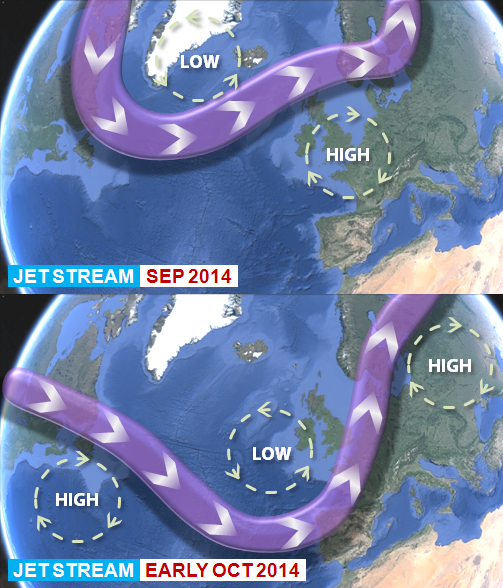 Background map copyright Google Earth

The exceptionally dry weather was caused by a more northerly position of the jet stream relative to the time of year, thus allowing a ridge of high pressure to extend and be centred over the British Isles. Typically, high pressure systems are associated with largely settled conditions with long periods of fine and dry weather, and in this case, they also drew warm and humid air up from the continent and across Britain. These high pressure systems then "block" any Atlantic low pressure systems, diverting the more unsettled weather northwards, rather than allowing them to track across the country.

Looking at the first part of October, the weather so far has certainly been more autumnal and unsettled, with the jet stream resuming a more normal, southerly position, as illustrated in the above graphic. As of 9th October, Houghton Hall in Norfolk has already received 20.6mm, and Shoeburyness (Essex) has accumulated 25mm, with several other stations already exceeding the rainfall totals seen during the whole of September 2014.
Chloe Moore  10th October 2014