Data-Driven Weather Insights helps Drive Collaboration and Innovation within the Utility Sector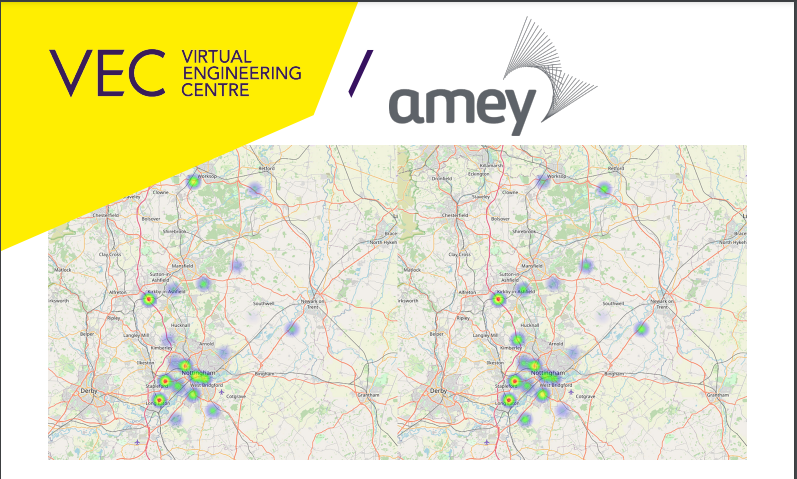 There is not a single industry on the planet that has not been affected by the weather and its impact on cost and productivity metrics within organisations.

To meet today's business challenges, it is imperative that businesses are supported with the very best weather and climate data.

The team at Weatherquest, an SME weather forecasting analysis company based in Norwich and located on the University of East Anglia campus, helped make this happen through their support in the digital innovation Amey Utilities / Virtual Engineering Centre (VEC) collaborative project.

Weatherquest advised on which of their data sources were most suitable to the project application and went on to provide past and present weather data to the team remotely via an API.

The Virtual Engineering Centre used the data to develop a specific project algorithm to help feed the intuitive customer decision-making tool developed in the project. Enabling the VEC's client Amey Utilities to use the intuitive web-based customer decision-making platform to make real-time observations and business decisions - ultimately saving time and money.

Ian Gooch, Chief Information Officer at Weatherquest, said:

"As weather professionals, we feel an obligation to help people wherever we can. Though we cannot control weather events, we can use our resources to help our technical partners at Virtual Engineering Centre, use our data to gain deeper insight into how upcoming weather will likely affect people's businesses and lives and help them make more informed decisions about how they can prepare and respond. We believe that through collaboration with our partners and other HEIs, we can achieve more together."

Read the full Amey Utilities / Virtual Engineering Centre case study here.


Weatherquest  3rd March 2021


Found yourself needing a new Weather API?



Recently, Dark Sky shared the news that they have joined Apple; we wish them all the best in their new partnership.

You may have also heard that they are no longer accepting signups to their API service, which will be discontinued at the end of 2021. As companies begin to look for new weather providers, we thought it would be useful to share some information on our API service!

Forecasts, Observations and Historical Data

We have a suite of APIs available, including:
o Deterministic, ensemble/probabilistic and monthly weather forecasts
o Real-time and historical weather measurement data, such as:
o Weather station observations
o Rainfall radar
o Lightning
o Solar radiation
o Modelled historical weather data

To discuss which options are best for you, feel free to get in touch via info@weatherquest.co.uk.

Developed and Used by Our Meteorologists

Our weather forecast API has been developed in-house by our team our research meteorologists, and was designed with our operational forecasters in mind. The data that goes into our API is used by our meteorologists every single day, to help them provide the highest quality and most accurate forecast possible.

Our forecast methodology is multi-layered, but also relatively simple. We source our forecast data from a variety of well-performing global and high-resolution regional models, including our own Weather Research & Forecasting (WRF) model built and run in-house. This forecast data is used to create a "multi-model blend" dataset.

Post-processing algorithms are then used on a site-by-site basis to increase the accuracy of the forecast based on known (and calculated) model biases from similar past weather events. In the immediate short-term, nowcasting techniques are also adopted to take the current weather situation (such as radar and the latest observations from weather stations) to project forwards over the next few hours. This means that our API feed is being constantly updated to give you the most accurate forecast possible.

Finally, our philosophy since Weatherquest was founded is to always allow our meteorologists to have the final say in any forecast, and so we are passionate in always retaining the ability for forecaster intervention - meaning every forecast you receive will have been examined by a qualified meteorologist, and adjustments made where necessary.

Unique and Interesting Parameters

We offer all the standard variables you would expect to receive in a weather API, including temperature, rainfall, wind and pressure. However, we can also include a range of specialist variables developed by our team.

For the agricultural industry, Spraying Index and Drying Index are considered particularly useful when planning fieldwork, and Growing Degree Hours provides a useful measure of crop development. We also offer Road State and Ground Icing - vital parameters for winter gritting, as well as a variety of variables for offshore energy, including wave information, hub-height wind speeds and gusts and lightning risk.

These are just a handful of the parameters that Weatherquest offer, if you'd like to find out more send an email to info@weatherquest.co.uk.

Smooth Integration

Our datastreams can be incorporated into your external-facing website with ease, integrated into your own operational decision support systems, and can also be used for data analysis on behalf of clients. Whatever you want to use it for, our IT team can make sure your new weather API is up and running as quickly as possible.

For more information, please get in touch with us at info@weatherquest.co.uk.

Zoë Johnson   19th June 2020